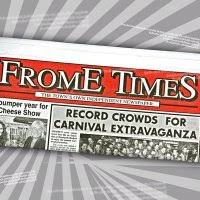 The Tree Conference, now part of the International Tree Foundation, is preparing to stage its second annual event at the Merlin Theatre in Frome, on Sunday 21st  October. Last year, a preliminary event which was held in Glastonbury, was very well received.
 This year's event will provide templates to facilitate large scale, UK-wide tree planting, explore the status of old growth forests in law, and bring together different groups of people working for trees globally – from foresters, conservationists and scientists to community project pioneers, council policy makers and tree empaths.
 Suzi Martineau, organiser of The Tree Conference says, "We're aiming to support a narrative change around what humans are capable of and show what we can and need to be doing to re-green our Earth. We'll also be highlighting leading-edge science about trees and their eco-systems, and exploring how we can empower the next generation's scientific and emotional understanding of nature and trees."
 Headline speakers at this year's event include; Isabella Tree, talking about her new book Wilding and the rewilding of Knepp Estate in West Sussex where she lives with her husband, the environmentalist Charlie Burrell; Mary Reynolds Thompson, author of Reclaiming the Wild Soul, will explain how we receive creative inspiration from nature, and how writing can be a powerful platform for promoting the health of our Earth; Andy Egan, CEO of the International Tree Foundation will share initiatives for citizen-led tree planting in the UK and introduce the foundation's TreePower programme for schools; and Dr Martin Bidartondo, lead life sciences researcher at Imperial College, London and Kew Gardens, will explain the effect of pollution on fungal networks and forest health.
 In addition, Peter Macfayden, author of Flatpack Democracy and member of Frome's independent town council, will be interviewing Ayana Young, the force behind the 1 Million Redwoods Project in north-west America, Julian Hight, author of World Tree Story and member of the 'Reviving Selwood Forest Project', and an extraordinary indigenous forest defender from the Amazon, soon to be announced!
 Suzi Martineau says, "There is a beef trade deal the EU are currently negotiating with South American countries which will cause further deforestation and threaten the Amazon's hydrological cycle which creates our rain.  The Tree Conference will be highlighting the important work of forest defenders from Ecuador, whose Living Forest Declaration – which is like a Neighbourhood Plan for the rainforest – poignantly articulates why it's so important to keep the remaining Amazon rainforest standing, whilst presenting a new mechanism for doing it."
During the conference, local and international project coordinators will also give updates on the state of UK and global forests, forestry grants, developments in education, the effects of deforestation along railways and the new HS2 network, alongside other themes arising from the day. 
To see the full article visit:
http://www.frometimes.co.uk/2018/09/11/the-tree-conference-to-be-held-in-frome/