The Tree Conference is a one day event focusing on the needs of trees and people by lifting up world class scientists, practical projects and community templates.
Our 3 main aims:
1) To support citizen-led reforestation and landscape restoration globally.
2) To halt the destruction of old growth forests and support methods that protect trees.
3) To highlight the amazing science, projects, groups and cultural behaviour change that is happening around caring for trees and Earth's ecosystems in education, the media and the general public.
Run your own Tree Conference
One of our clear outcomes from the 2018 Tree Conference was to design the Tree Conference as a format which people in other countries could pick up.  Therefore supporting the needs of trees in different bio-regions to be articulated globally.
Creating a forum where people can unite around the needs of trees in our own countries feels really timely.
Our recipe for a Tree Conference
The core recipe to create a space where people of sometimes wildly different view points and experiences can come together around their shared love and focus on supporting trees.
The structure we have followed has been:
A one-day event with affiliated events held around it.
4 main speaker slots covering science (head), community methods (heart), globally relevant practical projects (hands) and culture shift personal work (womb).
Short project introductions ahead of networking time.
Exhibition of art works and performances from musicians and storytellers.
Then at the end of the day a panel discussion.
Most of the past two conference are available as films thanks to Daniel Dobbie and the amazing Angelfish Films crew and thanks to the generous funding and support of the Bertha Foundation.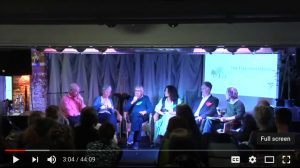 Get in touch
Please contact us if you would like more information about the template for running a Tree Conference in your country.
Our Background
The Tree Conference was founded by Suzi Steer, Lulu Urquhart, Adam Hunt and Sophie Knock at the end of 2016 as a vehicle to support the needs of trees. We started with our first conference in Glastonbury, Somerset in the UK in 2017.  This event was sold out and had very positive feedback from all the participants.
The second Tree Conference was held in Frome, Somerset in the UK in 2018.  Again our excellent speakers were very well received and the combined narrative of their talks has gone on to inspire and inform many local projects.
We took at year out in 2019 while Suzi, the main driver behind the conference moved from Somerset to Suffolk and took on a position taking care of Education and Alliances for treesisters.org.  During the first lock down we held a one hour conference on May 2nd 2020 and are working towards a conference in Autumn 2021.