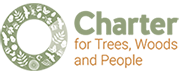 Led by the Woodland Trust, more than 70 organisations from across multiple sectors are working together to build a future in which trees and people stand stronger together.
On 6 November 2017, the 800th anniversary of the influential 1217 Charter of the Forest, we will launch the Charter for Trees, Woods and People. More than 50,000 tree stories have been submitted in the last year and the themes from these stories have informed the ten principles which underpin the charter. We believe the people of the UK have a right to the many benefits brought by trees and woods. The new charter will recognise, celebrate and protect this right.
The Tree Charter will draw its strength from the hundreds of thousands of people across the UK that sign.
The Issues
Why do we need trees?
Trees and woods are hugely valuable for our health, happiness and our children's development
Our woodland heritage is even richer and internationally more significant than we realised.
The UK is one of the top consumers of wood products in the world
They provide:
Clean air
Natural flood defences
A mask for noise
Improved physical health and mental well-being
Cooling urban areas
Pollution absorption
Wildlife habitat
Recreational spaces
Contact with nature
Sensory outdoor learning resources
What are the threats?
Infrastructure development (building homes, railways and roads)
Pollution and climate change (changing weather and temperatures are challenging for trees)
Pests and diseases (increasing all the time – whole species such as Ash could be lost if not helped)
Lack of protection for ancient woodland in planning policy (UK has just 2% ancient woodland cover, yet more than 500 ancient woods are under threat)
60% of wildlife species are in decline across the UK
Decline in enrolments in forestry education (lack of awareness of forest jobs in young people)
Big trees dying of old age but not being replaced (especially in cities)
We're not even planting enough trees to replace those we are losing each year.
The Tree Charter Steering Group Vision is A future in which the many benefits of trees and woods are understood, treasured and fully realised in all areas of society. Our Mission To lead society in a celebration of the value of trees and woods, and in the creation of a charter that roots the beauty and utility of trees in public consciousness and at the heart of decision-making.
To find out more visit :
https://treecharter.uk/the-charter-story/whos-involved/