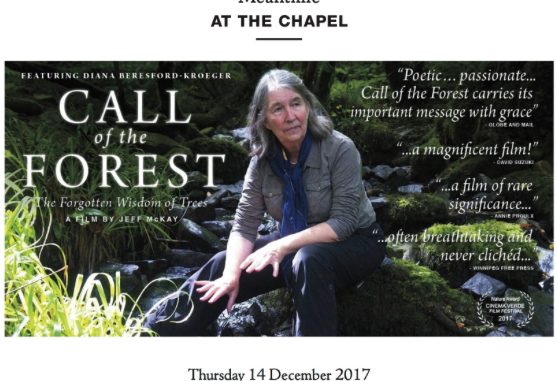 On Thursday 14th December, at the Chapel in Bruton from 6.30pm there was a screening of film by Diana Bresford-Kroeger with a Q&A with Suzi Martineau, Founder of The Tree Conference
The science and enchantment of the global forest provides us with answers to modern dilemmas. 'Call of the Forest – the Forgotten Wisdom of Trees' is a documentary featuring scientist and acclaimed author Diana Beresford-Kroeger. The film follows Diana as she investigates our profound biological and spiritual connection to forests. Her global journey explores the science, folklore, and restoration challenges of this essential eco-system.
Beresford-Kroeger explores the most beautiful forests in the Northern Hemisphere from the sacred sugi and cedar forests of Japan to the great boreal forest of Canada. She shares the amazing stories behind the history and legacy of these ancient forests while also explaining the science of trees and the irreplaceable roles they play in protecting and feeding the planet.
'Climate change is happening. What can we do about it? It will start with a shovel and an acorn, but we might just change the world.'
Diana Beresford-Kroeger
Event was held in collaboration with www.TheTreeConference.com – which took place on Saturday 4 November 2017
We recommend you get in contact with the film company if you would like to host such an event.
We are delighted to be involved in creating access to this important documentary which you can find out more about at calloftheforest.ca.  You can read more in the biography for Diana's talk at the Tree Conference.