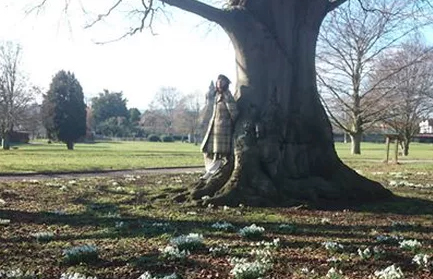 On Friday 3rd November the day before the Tree Conference itself there will be a pilgrimage through the Sacred Trees of Avalon from 10am to 4pm.
Greeting each tree with love and gratitude we will be honouring their work in our sacred landscape, setting our intention to listen once more to the wisdom of the trees.
Marion Brigantia, one the lead organisers of the Goddess Conference and the Priest/Priestess of Brighde Training.  Closely affiliated with her work with the deity consciousness that is recognised as many names throughout Ireland and main land Britain as Brigit / Bridie / Brigantia.  For those who are unfamiliar with this way of working, this will be a gentle, beautiful step into understanding why so many people come to train in the Glastonbury landscape.  All of these names refer to the Goddess aspect who is intimately connected with the narrative of the British Isles, supporting healing, waterways, the next generation amongst many, many things.
Marion's work not only gives us a permission in a held way to deepen our connection to trees but also to feel empowered that you can be receiving a sense of direction about where the landscape in this country would like to see us heading in the future.  She is very experienced in supporting groups and with the trees in Glastonbury.
Friday 3rd Nov. 10 till 2. £20
We have brought the timing down to 10am-2pm,
so it will be manageable for more people. 
So just bring snacks and drinks, it is going to be
a lovely stroll and connection with the trees ❤
For more in contact Marion
Or
Hannah