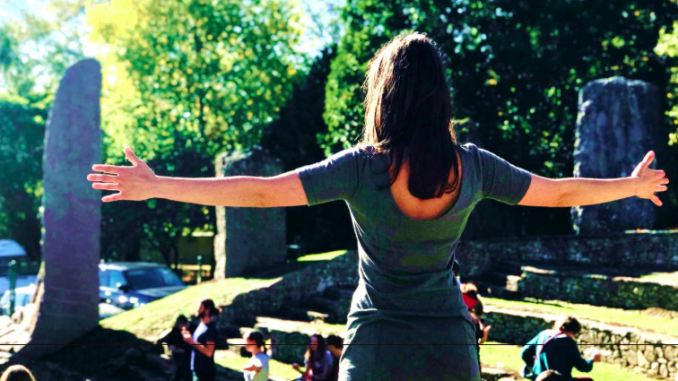 As speaker Mary Reynolds Thompson says "Creativity, at its best, bridges science and spirit, ecology and creativity, empathy and action, awakening us to the fact that the story of humanity has always been interwoven with stories of trees."
Inspirational, educational and motivating. Yesterday's Tree Conference in Frome was a timely gathering to celebrate the beauty of this planet, its nature and making those resonant connections. Its aims were to:
Support global citizen-led reforestation
Highlight the emerging new sciences around trees and their ecosystems
Halt deforestation of ancient growth forest
For me, the impact and implications of the conference will be considerably wider than trees and forests – the weekend was also about how a love of and respect for nature in all its myriad forms has to be fundamentally at the centre of the social and political movement that we know is gathering force.
The second Tree Conference, an all-day Sunday session sold out of tickets and delivered a range of speakers, networking time, focused groups and a delicious salad lunch served next to the outdoor ampitheatre and stone circle. There was a sense that something is really happening here…
Here is my Firecast interview with the founder and director Suzi Martineau, recorded the day after the event in Frome:
---
---
Speakers at the conference
Speakers included Dr Martin Bidartondo, deep diving straight into the more scientific end of ongoing research and enquiry, around a network of scientists who come together to understand and support the living world. He delivered a global science update on fungi, pollution and forests and some chilling home truths on the scaling back of forest monitoring globally and the increasing proliferation of carbon and nitrogen in our atmosphere and its impact. I must confess to being slightly blinded by the depth of the scientific nature of the talk, especially before a chance of waking up properly!  But it was vital, prescient and delivered with humour. Martin was loved by the gathering.
The author Isabella Tree followed with a fascinating case history of what started as a daring wildlife experiment with her husband Charlie Burrell on their 3,500 acre estate in Knepp, Sussex, inherited as intensive arable farm from Charlie's grandparents in the 1980s and situated just 44 miles south of London under the Gatwick stacking system, with nitrogen pouring from the skies upon them.
After some lean years and hard choices, she and Charlie made the move to transform the estate's ecosystem and became part of a system that has come to be known as re wilding and her latest book,  'Wilding' tells the story.
---
---
Isabella's enquiry at the Tree Conference was around the questions "What kind of trees do we want in our landscape? What landscape? How best to bring them back?"
The traditional, time-honoured story goes as follows…"It's an anthrop-o-centric story as it is bound up with these Freudian overtones. It's all about man coming along finding this intact forest with his, chopping its down with his axe, opening it up to the light, conquering the slavering beast and then opening up the virgin land to sow his seed…" It's a very penetrating myth, and it's taken hold over our subconscious.
"Those who care deeply about the the environment and about nature, this idea of an unfathomable, prolific, generous, pristine forest has become the holy grail of what to go to for nature. When we look at the the depleted over-exposed landscape around us that humans have changed so hugely, this idea of the primal forest has become the kind of go-to goal."
But now, the narrative is changing…
Her talk was a beacon of hope for new, sustainable ecosystems for the future, easier, cheaper and much more efficient ways of re-establishing trees in our landscape than just putting trees in the ground.
A century ago our landscape would have been totally different
Since then, we have lost 75,000 miles of hedgerows since World War 2. We've lost 97% of our wild flower meadows, 90% of our wetlands have gone and 80% of our lowland heathland. In 1966, there were 40 million more birds in our skies than there are today.
We tend to think that this is happening all over the world, that it is almost inevitable, but that is not the case.
In 2016, State of Nature brought out a report where they identified a bio-diversity intactness index where they scrutinised 218 different countries. The UK was 29th from the bottom spot we are one of the most nature depleted countries in the world.
The message was clear now "It is down to us!"
---
---
Following an excellent lunch outside in blazing sunshine, when attendees ahd a chance to go and mingle or join focused groups, we were treated to an excellent speech from Mary Reynolds Thompson, who comes from a marketing background and spoke on education, science and the voice of nature through creativity. Her speech was broad and wide ranging, looking outwards at how we can change the world by changing the story. By re-engaging our imaginations, we can reimagine the world as we want.
The move has to come from a currently predominating story and world view that the world is purely there to support the human drama.
There is a deeper intelligence at work. We need to practise mutual attention, intuitive action , creative practise, whether journaling, writing, singing, dancing, drama, photography, music. This is how we cultivate deep attention, through these practises, through having space to look at how we feel moved and begin to express what we are learning through attention and apprenticeship to the earth. 
Listen to the land. Allow it to be what it needs to be to thrive rather than saying 'This is what I need you to be'.
"We cannot know what our new stories working together will create but we can know that there is an earth intelligence working with us, standing behind the stories that we tell, giving encouragement to the stories that need to come forward. We can't know these stories unless we sit in a circle and say this is what inspired me today, this is who I feel myself becoming , this what I learned that touched me today…
"We need to be vulnerable, we need to be those tender young shoots, saying foolish, young things, all kinds of extraordinary things, and in the telling beginning to learn what is really strong and has its roots deep in something important and vital and we don't get to do that unless we start speaking 'my heart to your heart'… about what matters to us, how we feel in a forest by a tree in a meadow, all of those things, we have to come out of the closet…"
All of us in a way own a bit of the mystic…
I urge everyone to listen to this speech of Mary's. I can't promise that it will be transformational but an investment of 27 minutes will be very rewarding and probably offer an alternative perspective.
---
---
There was more… much more. We heard from five young school children Hannah, Nicola, Megan and Wendy. We listened to Peter Macfadyen introducing Frome's Flatpack Democracy and talking about local initiatives to recognise the River Frome as an entity with rights, and introducing International Tree Foundation's Andy Egan and Teresa Gitonga, visiting from Kenya and talking about why and how can communities be involved in large scale landscape restoration initiatives.
We listened to author Julian Hight discussing mighty oaks and the idea of reviving Selwood Forest around the Frome area, we watched an interview with Ayana Young about redwoods in California and from south America, a short clip about The Living Forest Declaration.
To finish there was a panel discussion, by which time I'd heard so much that I cant really remember in any detail about what was said, though Isabella expanded on the rewilding movement and cited current developments and activity and a representative of the Forestry Commission was talking about the need for a wide spectrum to involve everybody and how he aims to inspire individuals, landowners and farmers. Isabella Tree's "Bring on the bison" clarion call certainly struck a chord…
I'd wager that everyone who came enjoyed themselves and also went away inspired and motivated. It was a great day.
All in all, a huge amount to unpack and digest and I've only just started to do so. What The Tree Conference did for me was further strengthen my belief that fundamental change is happening at all levels of society and that climate breakdown in the both the catalyst and urgent clarion call to bringing about decisive action that will lead to huge changes, from the way we talk and listen to each other, how we live day to day, how we eat, from how we organise our economic systems to the way we utilise and exploit the internet, technology, social networking systems and one-to-one relations, and vitally, how we interact with nature in its widest sense.
We need to take a leap of faith and that means less time on mobiles, computers and technology. Apple have kindly introduced a handy app called Screen Time to limit the time we spend on their devices. Neat.
This is a universal movement that is already transforming society and the men will catch up!  Although Peter Macfadyen pointed out that the ratio of women to men, interestingly, was around 5:1, we'll watch will interest to see the speed with which more men take on board this intuitive and progressive transformation.
I'm still processing it all and very excited by a whole range of possibilities. For starters, it probably means more time listening to ourselves, our own heart beat and body, to the pulses around us, being aware and mindful of the here and now, and of the natural environment all around us in all its forms.
To see the full article visit:
https://campfireconvention.uk/bugle/spotlight/tree-hugging-can-actually-change-world