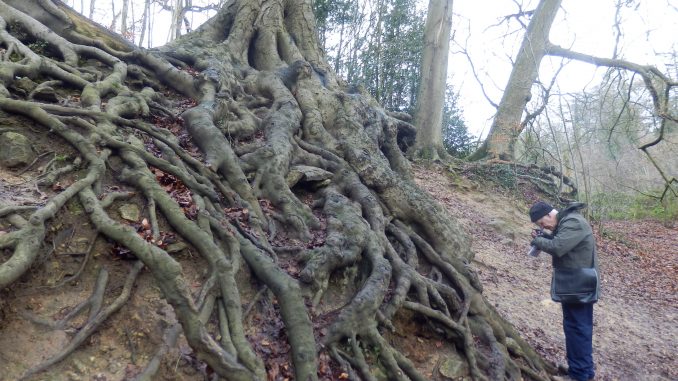 "Understanding Trees & Fungi as Flow-forms"
Bath-based evolutionary ecologist, writer, artist, poet, President of the Bath Natural History Society and former president of the British Mycological Society.
Since 2000, Dr. Rayner has been pioneering awareness of 'natural inclusion', the mutual inclusion of energetic flux and spatial stillness in all locally distinguishable phenomena.
It is a huge honour that he will join us to talk give us his insights from studying fungi with a talk titled 'Understanding Trees and Fungi as Flow-Forms'.  His experienced runs to the behaviours of few of the hundreds of fungi working specifically in branch decay, heart wood and around the roots of trees.  His work also supports us to refined language around our approaching to talking about living systems.
Alan will also be exhibiting some of his artworks as part of our Art Exhibition for the conference.
If you'd like to have a look at some of his writing you can read the article What is Life.
Books by Dr Alan Rayner
Degrees of Freedom: Living in Dynamic Boundaries 1997 Imperial College Press (click to buy)
This book is the extension of the fundamental breakthrough of seeing boundaries as 'dynamic'.  If there are no firm boundaries in nature we need to re-think our understanding of what a 'single form' is.  The fungal relationship with a tree showing how there is not a point where the tree stops and the fungi begins.
"Dr Rayner explains with virtuosity the extraordinary properties of the fungi of the woodland floor and relates this to a range of other phenomena, such as how humans learn." SGM Quarterly, Nov 1997
Nature's Scope: Unlocking Our Natural Empathy and Creativity 2012 (Click to buy)
Following on from his first book, this work explores Alan's understanding of 'natural Inclusion' as a alternative to 'natural selection'.  Within this he explores the sense that rather than water as the ultimately soluble substance, in fact it's space that holds and allows the presence of all of the moving dynamic forces of living form.  Thus exploring trees as 'embodied water flows'.  There are a variety of media used to explore this topic.
"Few thinkers are keen to find ways of conversing across conceptual and spatial boundaries. The implications for ethics, human knowledge and human organisation are vital for this generation and the next. Alan is one of the thinkers who is inclusive. He understands that we co-shape one another's thinking, just as we are co-shaped by the landscape."
–Dr Janet McIntyre, Associate Professor, Flinders Institute of Public Policy and Management, Adelaide
The Origin of Life Patterns: In the Natural Inclusion of Space in Flux 2017 SpringerBriefs
Working with academic publishers Springer Alan explores the relationship between human cultural psychology and evolutionary ecology of living systems.  Laterally applicable and of interest to psychologists, philosophers, anthropologists, evolutionary biologists, ecologists, mathematicians, and physicists.